Books
By Biosphere Foundation Board Members or about our work over two decades. 
Press
Articles in Nautique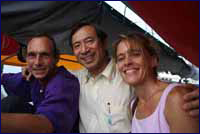 The Biosphere Foundation (PCRF) and Raffles Marina, Singapore's premiere marina, have collaborated for nearly three decades towards the goal of marine conservation in the Asean Sea.
This partnership has included our participation in the 1999 'Marine Parks of Indonesia Expedition,' and the design of a a sustainable wastewater recycling system, called Wastewater Gardens®, to be used by floating fish farms.
In 2006, Francis Lee (Raffles Marina President) and Abigail Alling celebrated their work spanning a decade, and signed a long-term agreement to further marine conservation in Southeast Asia.
In the spirit of this collaboration, sailing yacht Mir became Raffles Marina's 'Club at Sea' and for every two months (2006-2016) we communicated our discoveries back to Nautique, Raffles Marina's magazine. To view those articles, please see many below.
Yacht Mir Returns to the High Seas! – April, 2017
Looking Through A Lens – March, 2017
Tourism & Trash: Mapping Connections in NW Bali – January, 2017
White Out – Corals Wiped Out! – November, 2016
Getting to Know Mir – September, 2016
Earth Day at Princess Menjangan – July, 2016
A Voyage to Bali with my Singapore Friends – May, 2016
Heartfelt Thank You!- March, 2016
Save The Coral Reefs: You Can Make A Difference! – January, 2016
Coral Reefs Is Not Rocket Science – November, 2015
Blue Whales Endangered By Ship-Strikes – September, 2015
Coral Reefs – A Handbook For Their Future – July, 2015
The Promise: A Whale Story – May, 2015
Biosphere Stewards: Uniting For Change – March, 2015
The Future Of Our Cities and Regions – January, 2015
Makassar Buggis Joins Mir – November, 2014
Thar She Blows! – September, 2014
Biosphere Foundation Lands In Bali! – July, 2014
Glimpses Into The World of Jongs – June, 2014
The Ocean Refuses No River – May, 2014
This Beauty Is A Beast – March, 2014
Biosphere Stewards: The Next Generation – January, 2014
A Whale Of A Time! – November, 2013
Shiver Me Tenders! – Sept, 2013
Don't Waste it! – July 2013 Whale Tales – May, 2013
Conservation "By Land & By Sea" – March, 2013
Mir's old Teak Deck Lives On! – January, 2013
Facing the Future – November, 2012
Hang On To Your Moorings – September, 2012
Crossing the Threshold with Mir – July, 2012
Whales Ahoy in the Seas of Serendib – May, 2012
Protecting Anambas – March, 2012
All hands on Deck! – January, 2012
An Anambas Escapade – November, 2011
Friends of Menjangan – September, 2011
Refuse, Reuse, Recycle – July, 2011
Coral Reef Protection at Bali`s Menjagan Island – March, 2011
Anambas Islanders Protect Sea Turtles – January, 2011
Mir`s First Sail – November, 2010
Disappearing Sharks – September, 2010
The Aquarium Trade – May, 2010
Reefs at a precipice, March, 2010
Back to the sea! -November, 2009
Save the Sea Turtles – September, 2009
To the Heights of the Sunda Shelf – July 2009
Farewell Sailing Vessel Infinity – January 2009
Reefs at Risk in Tioman Malaysia – November 2008
Rosy Splendour of Raja Empat- July, 2008
Witnesses to a Tsunami – May 2008
Burying a Treasure – March 2008
Fascinating Island Cultures – January 2008
A Spot of Magic – September 2007