One week to unwind a little bit on board of MIR.
Our "Science Team", led by Orla Doherty, have finally gone through four intense weeks of data collection around these majestic Coral Reefs here in the surroundings of Menjangan Island, West Bali. The transects were run by Orla, Carol Milner, Gaie Alling,  Philip Dustan Phd. (professor of Charleston College), and Tasrif Kartawijaya (Wildlife Conservation Society). The team also counted with Leslie Roberts, an quite experienced diver who's been on board with us for this season.
Massive beauty still resides under these waters – colorful walls covered with a pretty vast variety of luminous corals, algae, sponges… the sheer habitat of thousands species of fish, shrimps, squids, star fishes, as well as turtles and a few sharks (like the Leopard Shark we had the great surprise to come across recently). Certainly these reefs are cradles for uncountable new born marine fauna and flora, a beautiful treasure enveloped in blueness.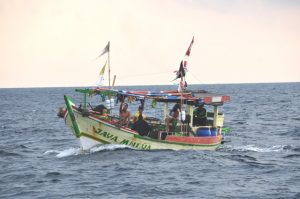 But it's just one side of the whole picture. Even though we are dealing with a "no-take" zone, protected by the Bali Barat National Park, illegal fishing does takes place all around. Most of the local fishermen have had their vessels turned into facilities to take tourists from the resorts and villas to fun dives, after a conservation programme led by government and NGOS' initiatives. It seems to have worked well, somehow, in terms of even increasing the income of these family holders. Nevertheless, it's left a gap open for fishermen from other locations, like Java, to find here a prosper site for fish collection, and the worse is that once the illegal fishing must happen rapidly, the use of dynamites to bomb the coral reefs leaves behind a trail of destruction, death  and rubble which might take ages to be recovered by Mother Nature.
Local boatmen now are getting together to keep watch on the bay, specially on holiday seasons when advantage is taken upon people being out of the sea for religious festivities at the temples.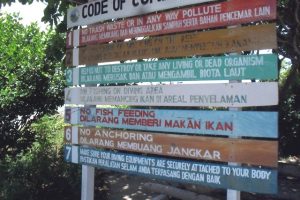 Another issue that haunts this sacred paradise is well known to all of us, rubbish and PLASTIC! A ghost spoiling our blue waters and threatening the sea life everywhere in the globe. Nono, a new partner of ours, has been mobilising the community in order to develop recycled products in order to give plastic an artistic and useful future, while working on bringing extra income to some families, an initiative that can really blossom if the necessary support come in hand!
The Biosphere Foundation's "Education Team" has just started a programme which includes visit to schools, beach clean-ups, and the launching of a local association called FRIENDS OF MENJANGAN / SAHABAT MENJANGAN (in Bahasa Indonesian). The association is meant to develop activities related to coral reefs' conservation and eco-education. This idea is the fruit of an old dream weaved together by Gaie, Laser & Orla (Biosphere Foundation) along side with Mr.David, the chairman of Menjangan Jungle & Beach Resort, a great partner who's invited our team here, and whose life has been dedicated to conservation causes. Now, with the support of the Bali Barat National Park, FRIENDS OF MENJANGAN shall be formally introduced to the local community on the next 7 & 8 of May 2011, in a great celebrative event for Earth's Day.
We're really happy to have Kartika Dewi with us at this point of our journey. She'll be the face and the voice of FRIENDS OF MENJANGAN towards the local community and authorities. This strong Balinese woman is a professor of Bali University, a journalist for Bali Now Magazine, and has been involved with conservation actions for many years. A person easy to fall in love with, due to her passion towards life, wits and courage to stand for the protection of the silent Coral Gardens under the water.
Hope we can also count on your support as well, dear readers from around the Blue Globe, to sponsor and aid all these actions to protect and conserve these Natural Sanctuaries in West Bali.
Love and Gratitude!
Satyavan Rogério