Google Earth Ocean Gallery Demonstration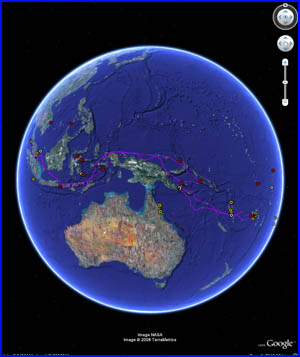 Graduate student, Kitty Currier's work was selected for Google's Ocean Gallery, a collection of marine-themed Google Earth maps assembled to coincide with the launch of Google Ocean in 2009. She was also awarded a GeoEye Foundation grant of satellite imagery for the Fiji, Malaysia and Indonesia coral reef sites.
To view the project, you must have Google Earth installed on your computer. Click here to download Google Earth.
Click on the link below to download and open the Google Earth-Ocean Demonstration Project file:
PlanetaryCoralReefFoundation.kmz
"A 14-year planetary ocean expedition generates a lot of data. How better to present these data than through a dynamic, interactive digital model of the earth? From this attitude, the PCRF ( now Biosphere Foundation) Google Earth-Ocean Demonstration Project emerged."
– Kitty Currier, 2008